"What are some topics to discuss with my mentor?"
A mentee had this question recently.
Keeping a mentor engaged and using their time wisely takes practice.
The mentee previously discussed the following with their mentor:
✅️ Current project
✅️ Career goals and path to the next level
✅️ Hot skills in the market
✅️ Mentor's career path
But the mentee wasn't sure what to discuss next.
They asked and got some additional suggestions:
✅️ Further education
✅️ Work / life balance
✅️ Future projects
✅️ Career lessons learned
✅️ How mentors helped the mentor
*************************************************************
What else would you add to this list to discuss with a mentor? Let me know below.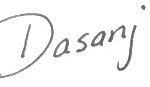 Dasanj Aberdeen is an entrepreneurial spirit who embodies the combination of left-brain logic and right-brain creativity. She is a consultant and proponent of multidisciplinary education, approaches and pursuits. She writes about their benefits in modern times and integrating multiple interests into a sustainable and fulfilling lifestyle. She's a graduate of The Wharton School of the University of Pennsylvania and Temple University with a concentration in Technology & Innovation Management, jointly delivered by the Fox School of Business and College of Engineering.