"What suggestions do you have for me since I'm new?"
This is a common question.
Being new can be overwhelming.
Where do you start?
Especially when you don't know what you don't know?
It helps to have a clear path to fast-track the transition into a new role.
Here's what I've seen work and the guidance I've provided as a mentor:
👉🏾 Learn about the new work environment – Gather information and be open
👉🏾 Learn about your new role – What will you be expected to do?
👉🏾 Make connections – Set up chats to meet your new colleagues
👉🏾 Expand your network – Ask them to connect you to others
👉🏾 Offer to help – Learn new skills that can be applied forward
👉🏾 Get organized – Take notes and use tools to manage your time
**********************************
What would you add to this list to help a newcomer succeed? I would love to know below!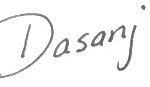 Dasanj Aberdeen is an entrepreneurial spirit who embodies the combination of left-brain logic and right-brain creativity. She is a consultant and proponent of multidisciplinary education, approaches and pursuits. She writes about their benefits in modern times and integrating multiple interests into a sustainable and fulfilling lifestyle. She's a graduate of The Wharton School of the University of Pennsylvania and Temple University with a concentration in Technology & Innovation Management, jointly delivered by the Fox School of Business and College of Engineering.