I have so much of the world left to see, and I'm all about knocking down the list when I can.  So when a good friend, Nikki, mentioned her aunt was doing a Spanish immersion program for a month in Medellín, Colombia and invited another friend and I to visit, who was I to say no?!  We quickly finalized things, making remaining flights work. This was at a time when I was actively prioritizing people and experiences that were important to me, so the flight was booked and a plan was put in place to handle other things going on during my trip.
Arriving to Medellín
After my first flight, I spent a few hours at the airport in Miami before my friend Ana joined me for our flight to Medellín.  The flight was about three and half hours; and we arrived to José María Córdova International Airport (MDE) to rainfall, which was common for November.  First, I exchange some money for Colombian Pesos (COP) (approximately 3,000 COP for $1 USD). Next, after trying to locate our Uber driver on the first level of the airport, we realized there was a second level and found him waiting there. Uber is recommended for travel in Medellín. The initial challenge was trying to communicate with the Uber driver without cell service; and later, we learned that drivers mainly used landmarks as opposed to street addresses.
It was well after 9 PM, so we couldn't see much, especially with the rain.  But driving from the airport and down into the valley, the lights lit up the mountainous landscape which made for a beautiful view. The drive into the city is about 45 minutes and costs about 50,000 COP. We arrived to our Airbnb, got settled, and our friend Nikki joined us later that night.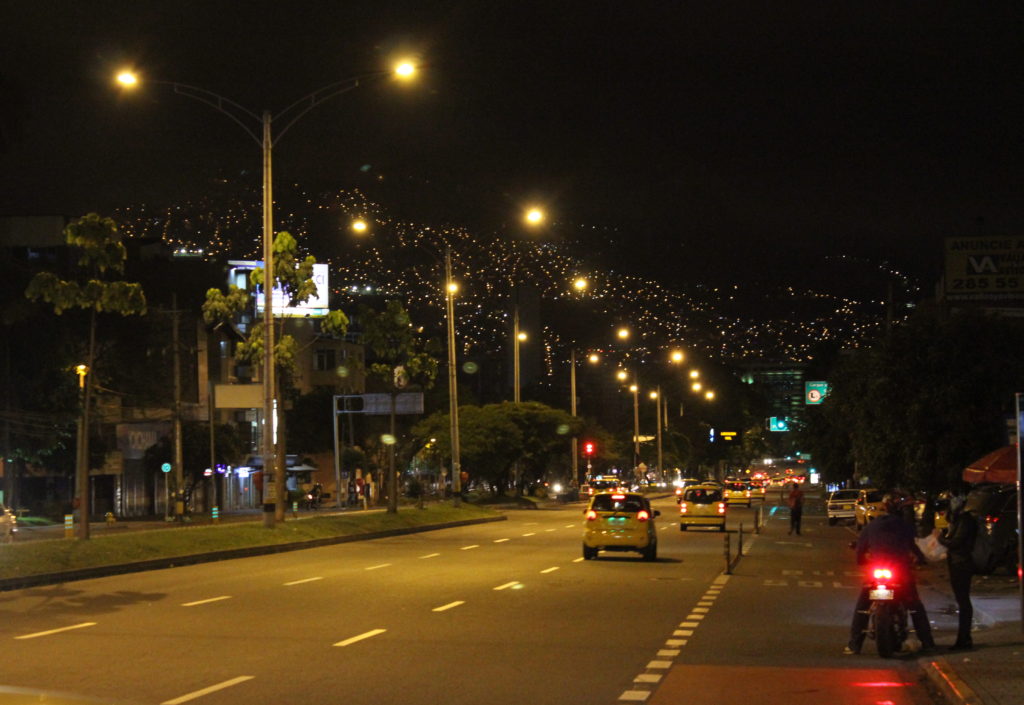 Day One
The next morning, we got a chance to admire our cute Airbnb! It had a modern design and decor, beautiful view, great location and enough space for all three of us.  The view out the bedroom window was filled with red brick buildings with red clay roof tiles.  It was a picturesque, all the way up the sides of the surrounding Andes Mountains.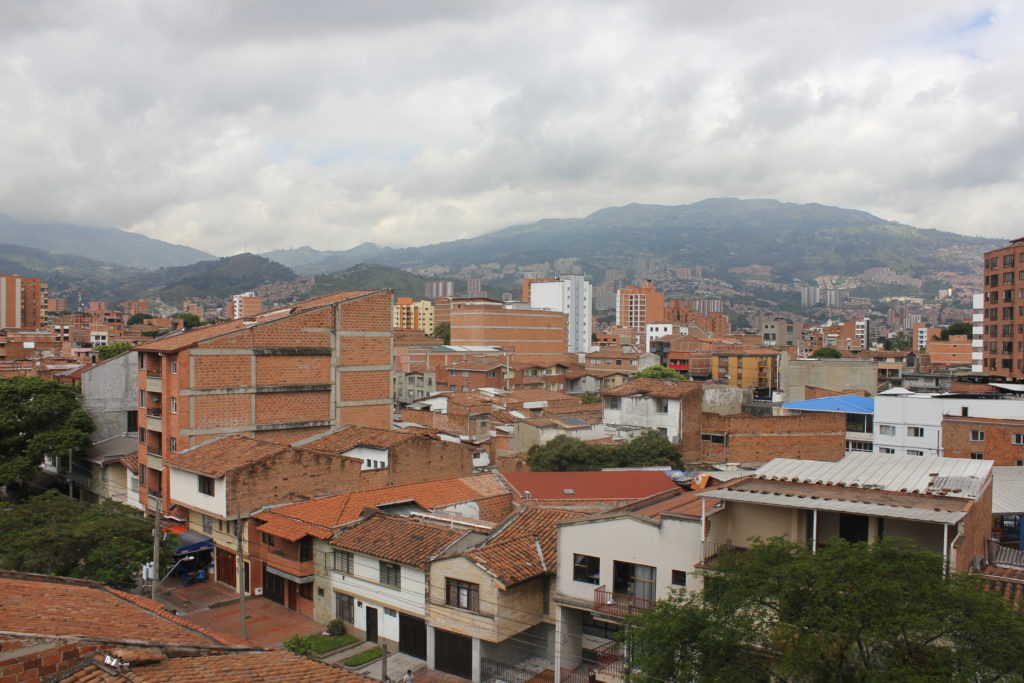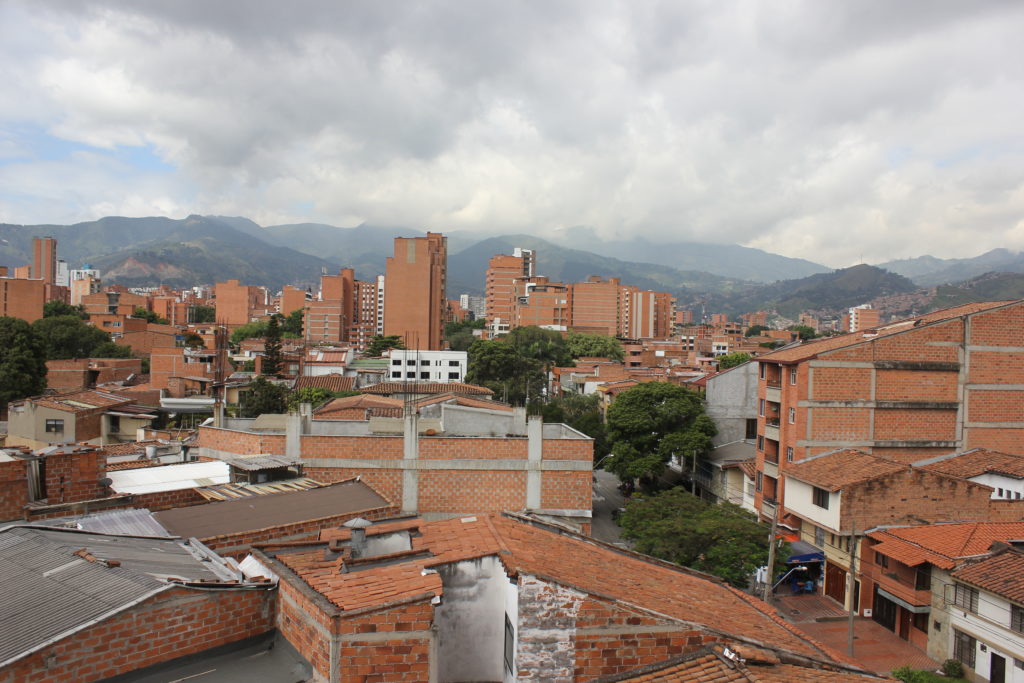 Getting ready that morning was an adventure. We realized the water in the shower was ice cold.  So we reached out to our Airbnb host to learn we needed to turn on the water heater. Because the water quickly turned cold after a few minutes, we mastered taking the quickest showers!
Our Airbnb was right off of La Setenta (La 70) which is an area with numerous bars & nightclubs and is also known as the Salsa strip of Medellín. We walked around the neighborhood, Laureles, that morning with no set plan. We intentionally kept our itinerary open so we wouldn't be tied to a schedule. We stumbled upon a small, neighborhood restaurant, Ricuras La Abuela, where we had breakfast. We had pasteles de pollo (Colombian fried chicken pies) with salsa picante (hot sauce).  These were delicious and held us over for the rest of our walk around Laureles.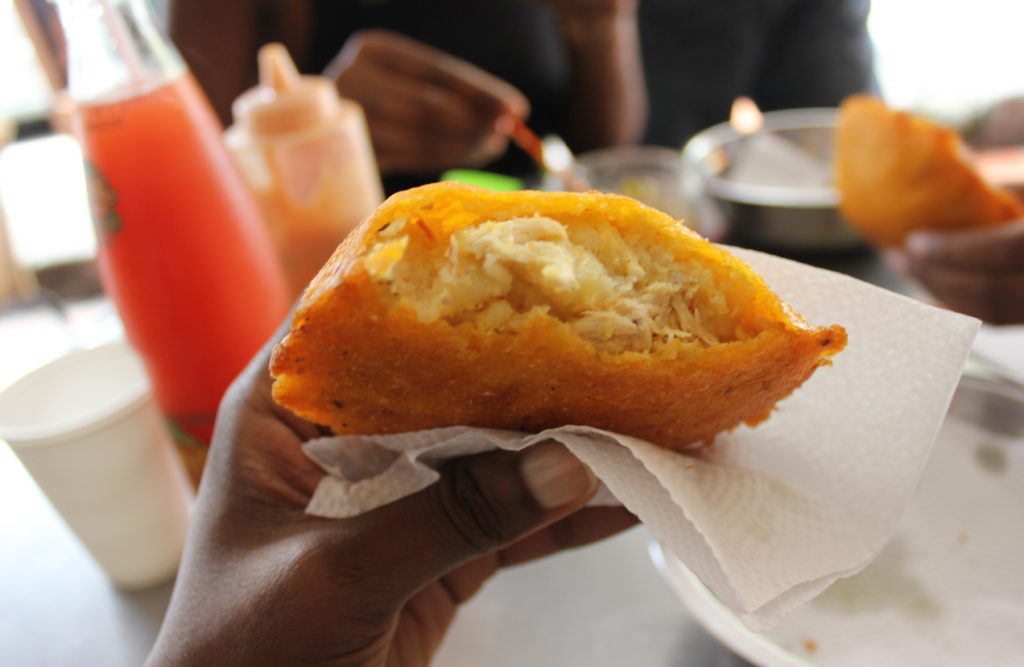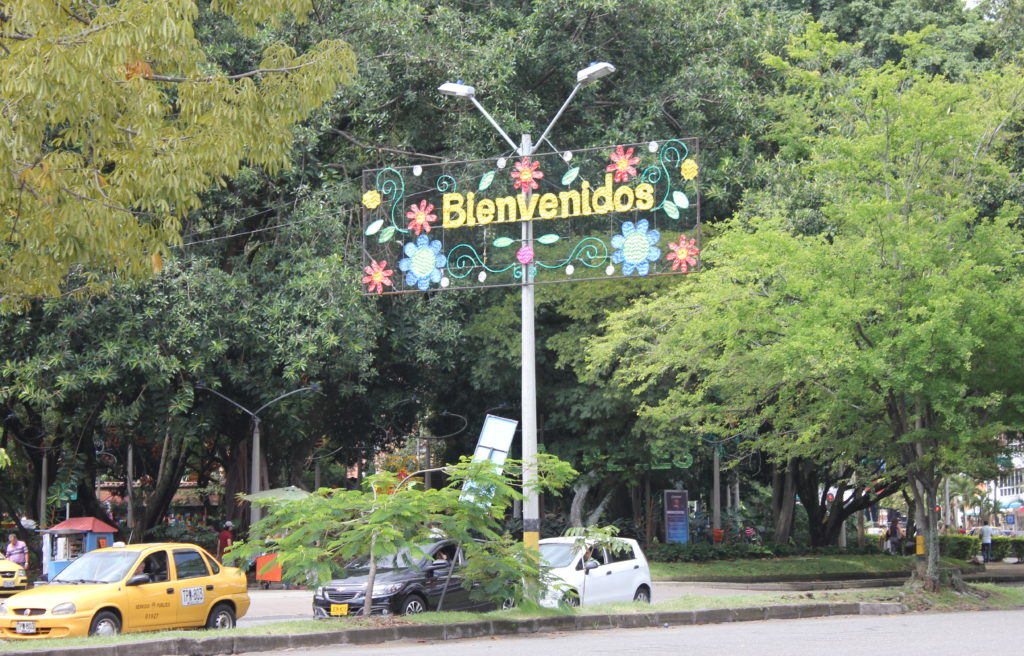 We passed by Pontifical Bolivarian University, a private university in Colombia, which had a beautiful Catholic church on-site, a few neighborhood parks (including one with swings which I had to get on!) and perused about until we stopped at Naturalia Café where we waited for Nikki's aunt Sandy to meet us after Spanish class.
In recent years, the government has made efforts to support innovation so Medellín attracts expatriates and entrepreneurs from around the world.  The climate, cost of living and accommodations support this as well.  We saw business meetings in progress, people working solo and a conference room in use at the café.  We had an afternoon snack of natural juices and pastries.
Once Sandy joined us, we explored Laureles some more then went to Patacones Food and Gallery for dinner.  There we had a variety of entrees on patacones (or tostones) made from green and ripe plantains.  These were really tasty!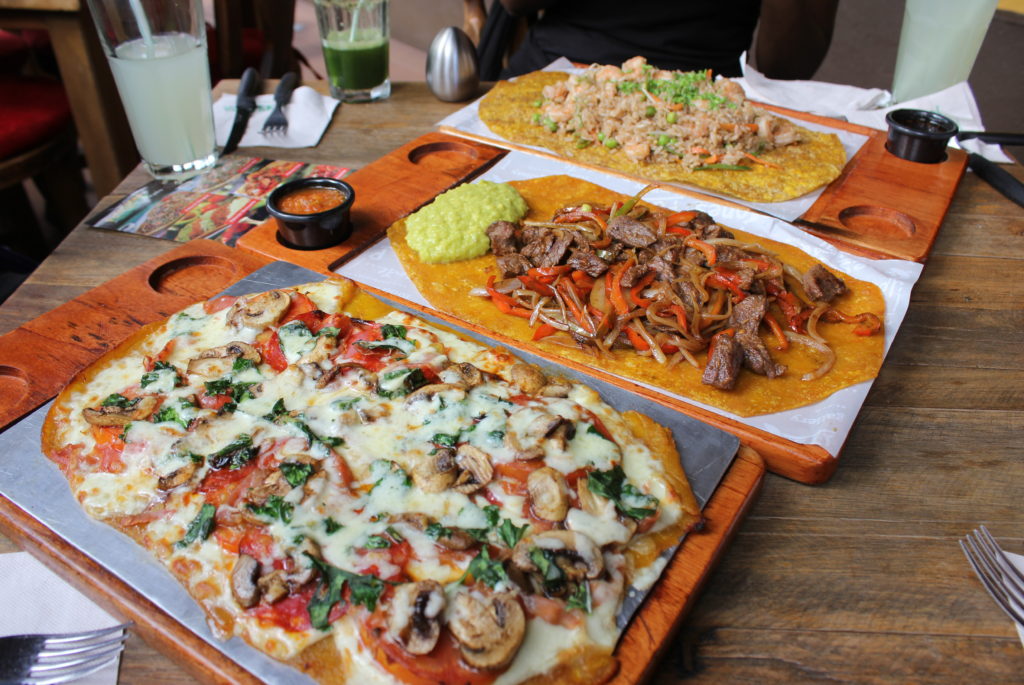 After this, Nikki took us to The Charlee Hotel, which she had visited on a previous trip, and its Envy Rooftop Bar for a great view of the city and the sunset to wind down the day.  The hotel was in El Poblado, an upscale neighborhood with high-rise apartment buildings, restaurants, boutique shops, and lively nightlife. The rooftop didn't disappoint with its nice ambiance, a rooftop pool and a spectacular panoramic view!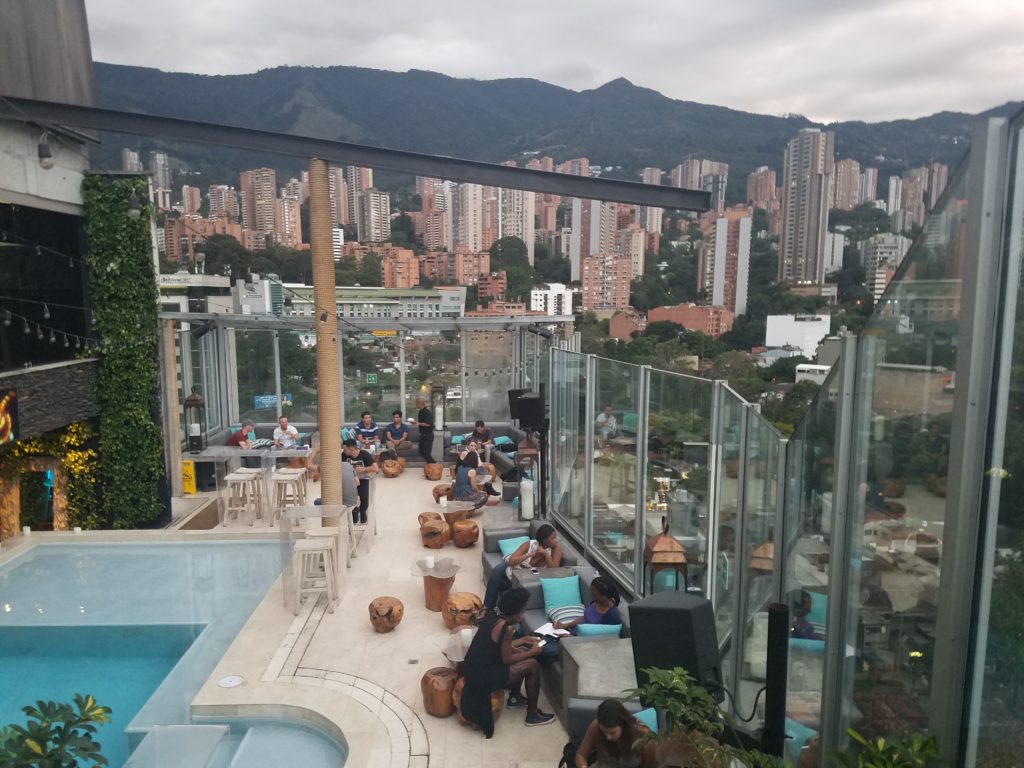 Day Two
We started the next day with a walk around the neighborhood, but in a different direction.  We stopped at another restaurant near the one from the prior day for breakfast. This time we had arepas, a traditional Colombian breakfast dish, prepared in a variety of ways with eggs, cheese, hot chocolate, and coffee.  Our hostess also provided us with fresh orange juice!  After this, we continued our walk, stumbling upon street art and more red brick buildings until we found our way to Segundo Parque de Laureles, a park, just as it started to rain.
We escaped to Freshii, a restaurant nearby with covered outdoor seating that prides itself on "fresh and nutritious meal choices that energize people on the go." It was perfect.  Sandy joined us and we finished eating as the rain stopped. We then hopped in an Uber to head to El Poblado again.
This time we explored El Poblado more by foot, perusing the streets and checking out the boutiques.  We had dinner at Ay Caramba, a Mexican restaurant, and were amused when they provided gloves for us to eat our wings.  So practical!  This place had outdoor seating so we people watched and avoided another round of rain!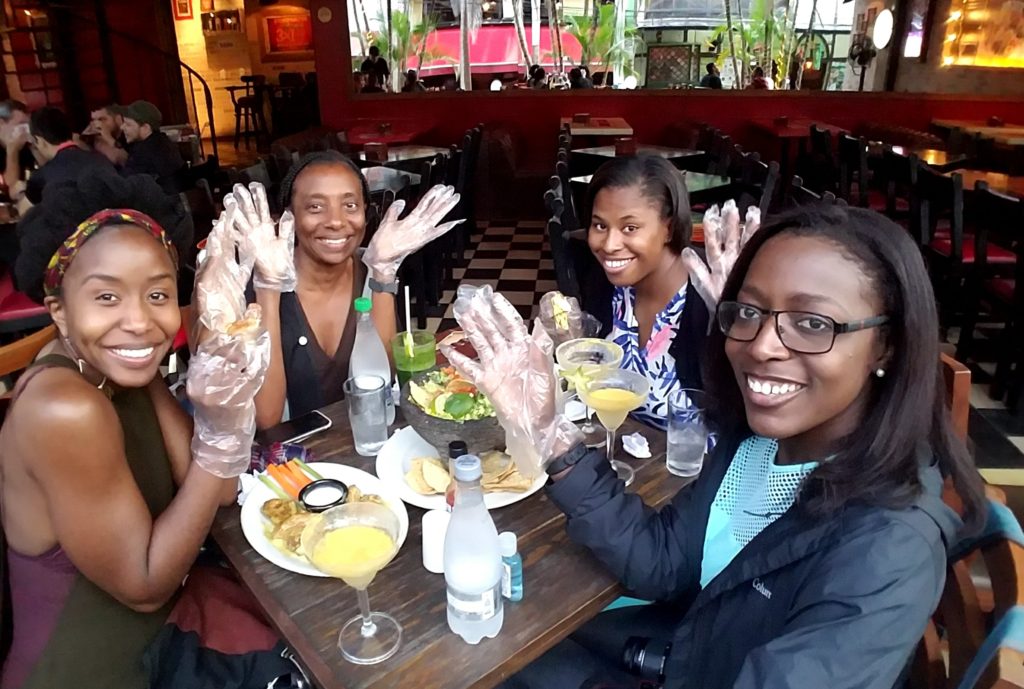 We stayed at Ay Caramba until after sunset then we continued to browse the neighborhood. Good music caught our attention which led us to stop at this restaurant with a  hostel attached.  I found a hammock in the colors of Colombia's flag so I had to check it out! We had some smoothies there, relaxed and had some amusement when a kid passed by selling flowers. 
We eventually got an Uber back to our Airbnb and walked along La Setenta, picking up some souvenirs along the way.
Day Three
We headed down La Setenta / Carrera 70 the next morning for breakfast at a popular place, El Colmado. We had a combination of pastel de queso (cheese), pastel de guayaba (guava), croissants, etc. with coffee and tea. I personally enjoyed the Colombian coffee!
After this we walked down to the metro and got on the train at Estadio (Stadium) Station. We were headed to check out Medellín's world-famous Metrocable cable cars.  At the turn of the century, the residents of the hillside barrios that sat above the city did not have a convenient way to get into town in the valley below.  Public transportation was infrequent and unreliable, the area was dangerous and access was limited to the labor market.  To address this, the first Metrocable cable car was built in Medellín in 2004.
We soared over the barrios on our way up the steep hills in the cable car. This was a great way to see how beautiful and expansive the city is!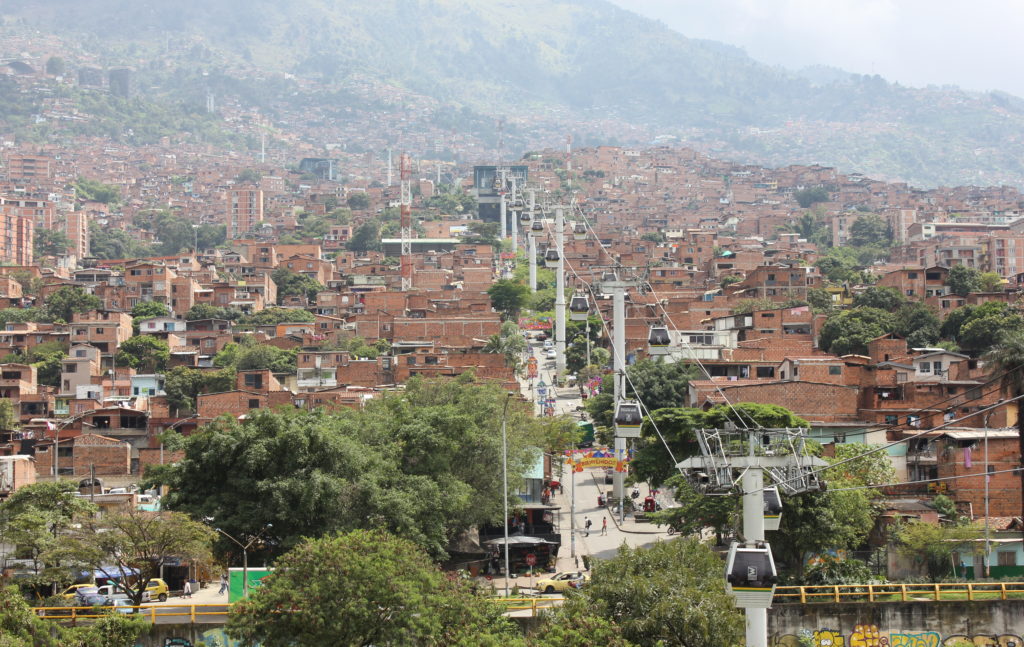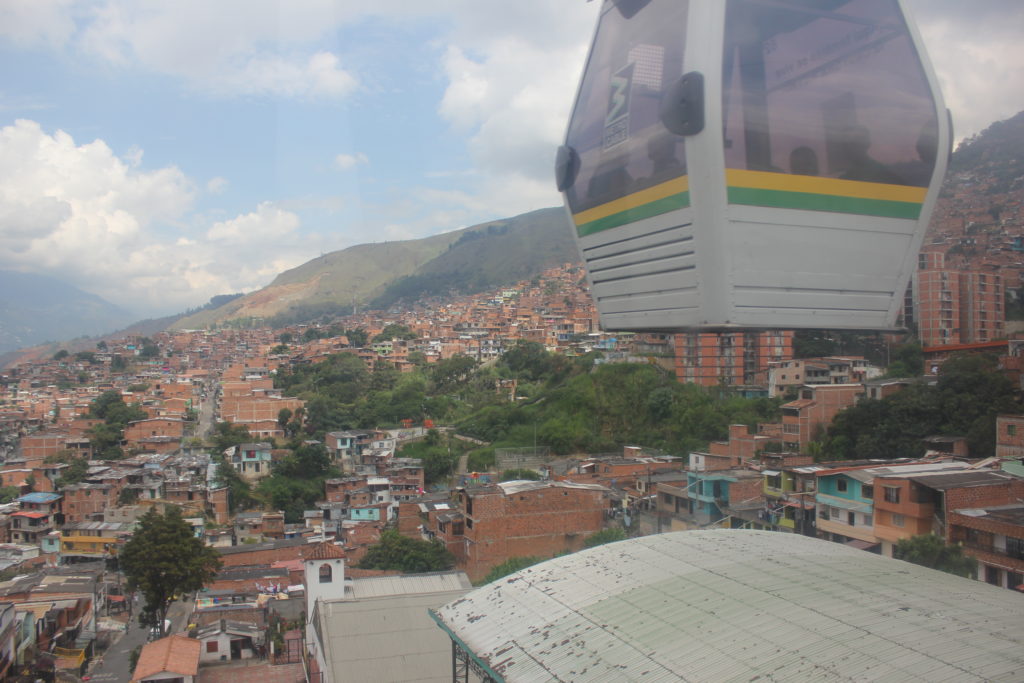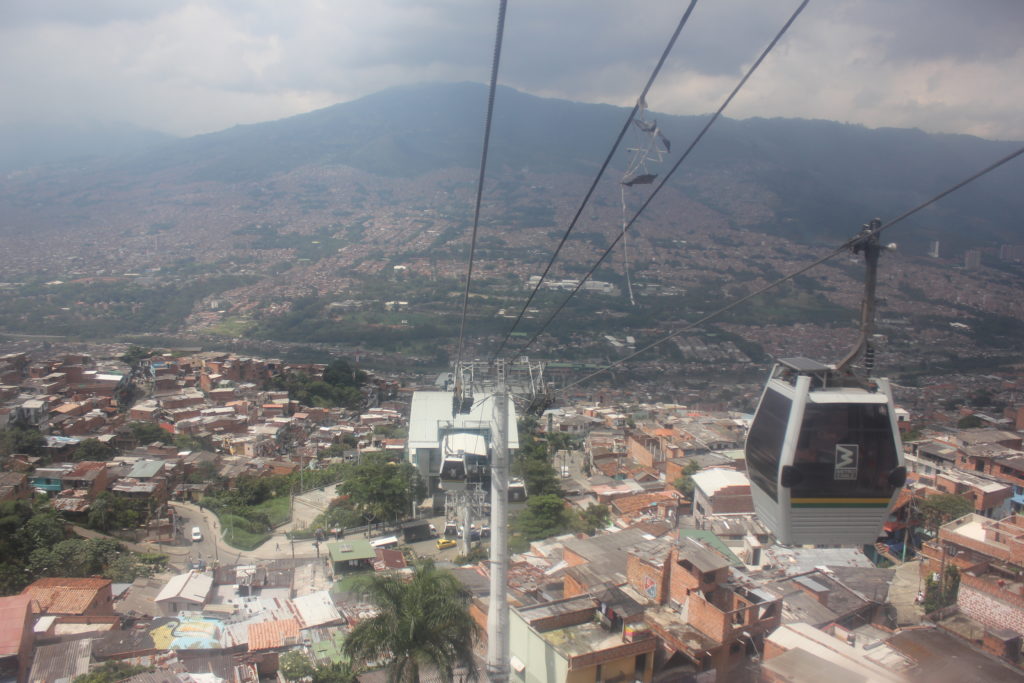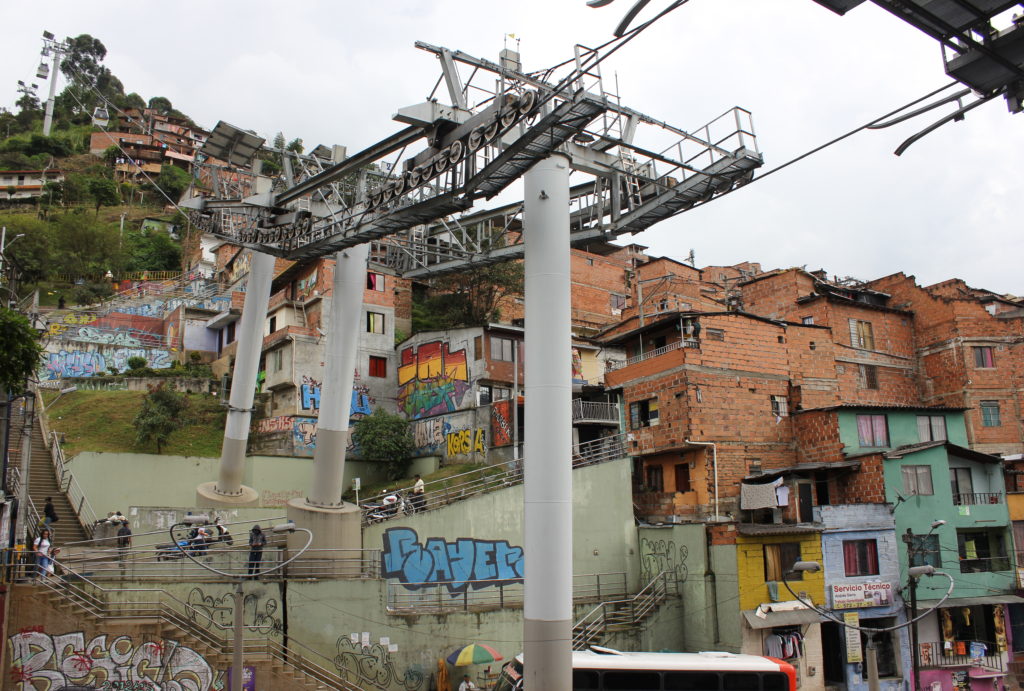 The cable car went all the way up the top of the mountain and into Parque Arví, a park which is both an ecological nature preserve and Pre-Hispanic archeological site. There's an outdoor food market next to the gondola station so we checked it out once we got to the top. We bought some souvenirs and even ran into some Wharton students there! This always happens; the Penn / Wharton network is so expansive! We tried local fruits, food and bought jewelry made from local stones.  It was noticeably cooler up there and often rainy but we were prepared with layers and umbrellas.  We checked out one of the trails but didn't venture far into the park.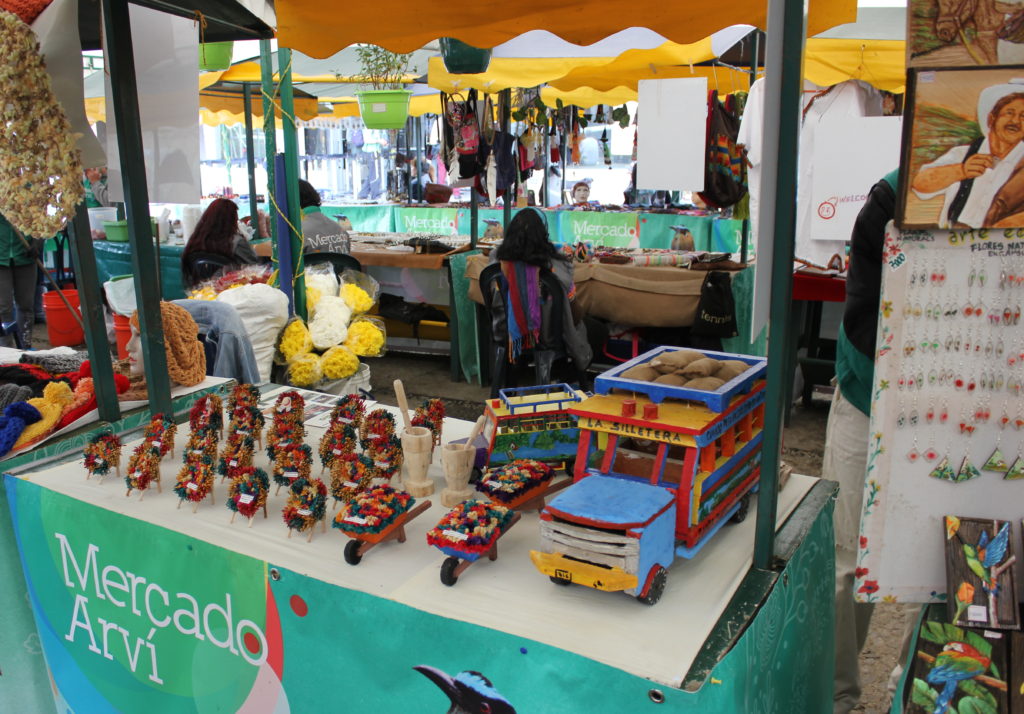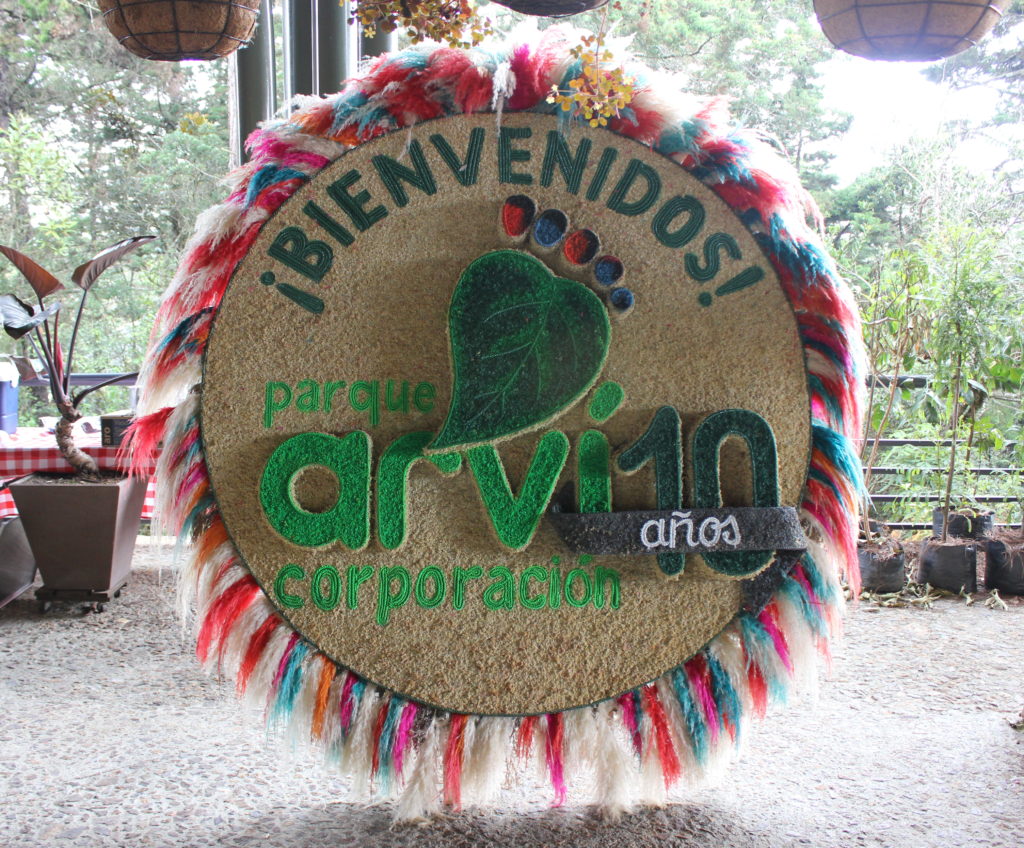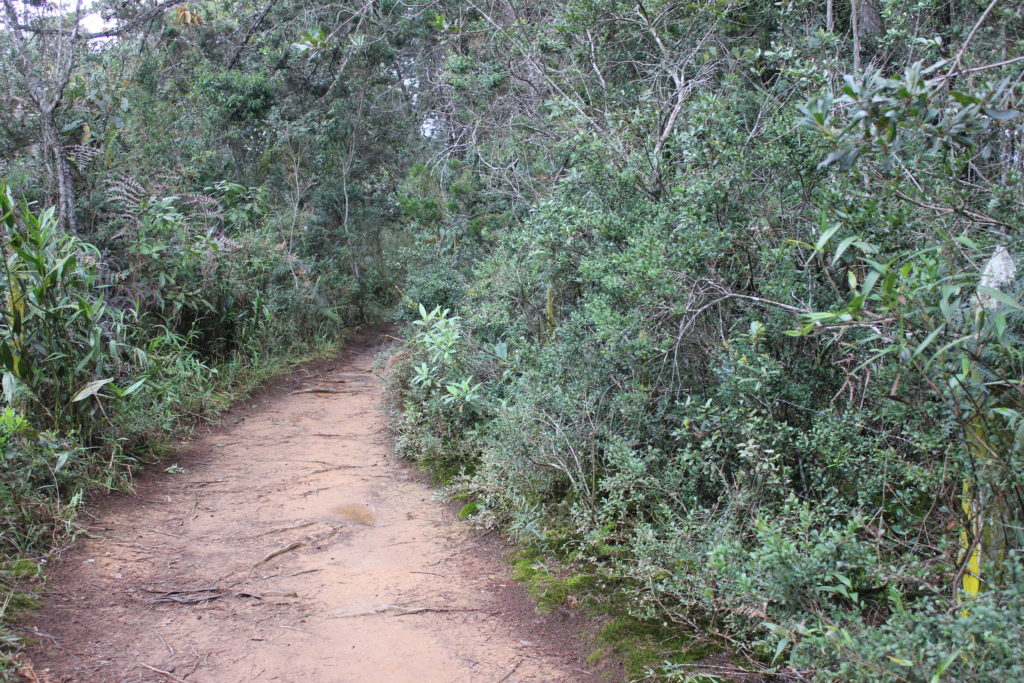 We took the cable car back into town eventually and got off at Estadio (Stadium) Station again. By this time, a football match was in session so the area was lively as people made their way into the nearby stadium.
Once we got back to our neighborhood, we went to Restaurante Mondongos to have some Colombian food for dinner.  We shared the Bandeja Paisa (Paisa Platter) which is a traditional Colombian dish. It came with it mondongo (tripe) soup, rice, beans, pork, ground beef, fried egg, plantains, avocado, potato, banana, fries and arepas.  It was enough food to satisfy all four of us!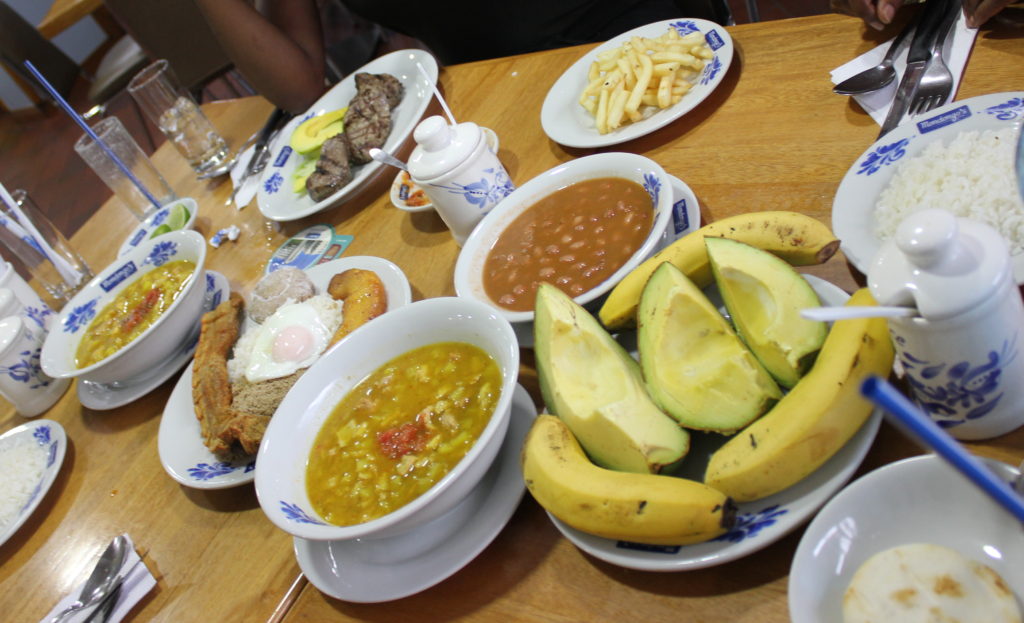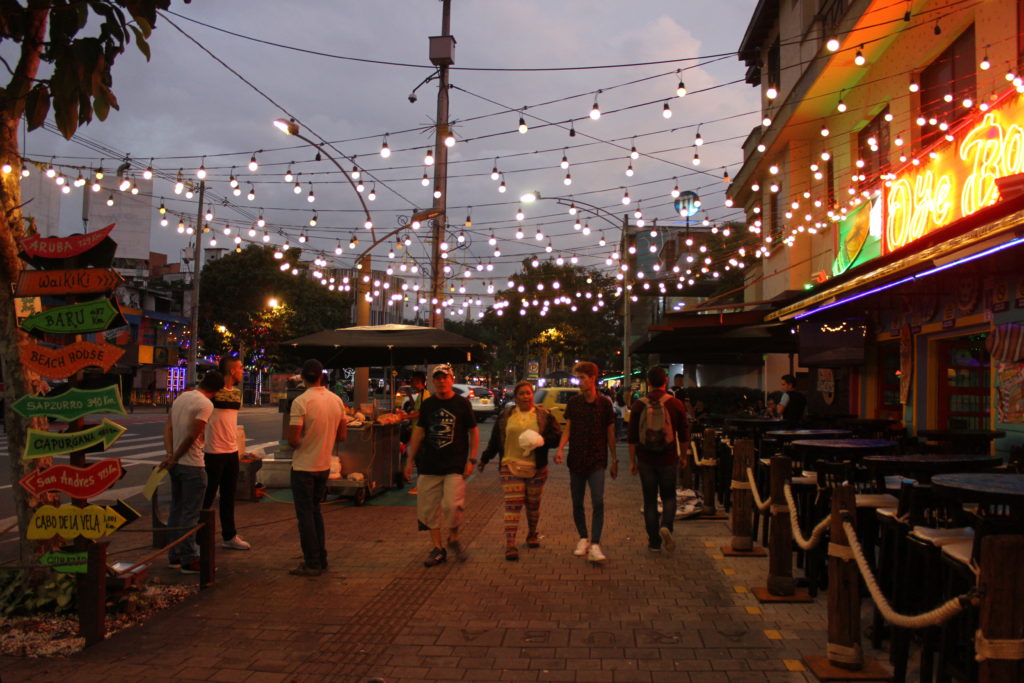 We went to our Airbnb after to get ready to head to El Poblado for the evening. We took an Uber to Café Zorba, a pizza restaurant with a great atmosphere, where some of Sandy's classmates joined us.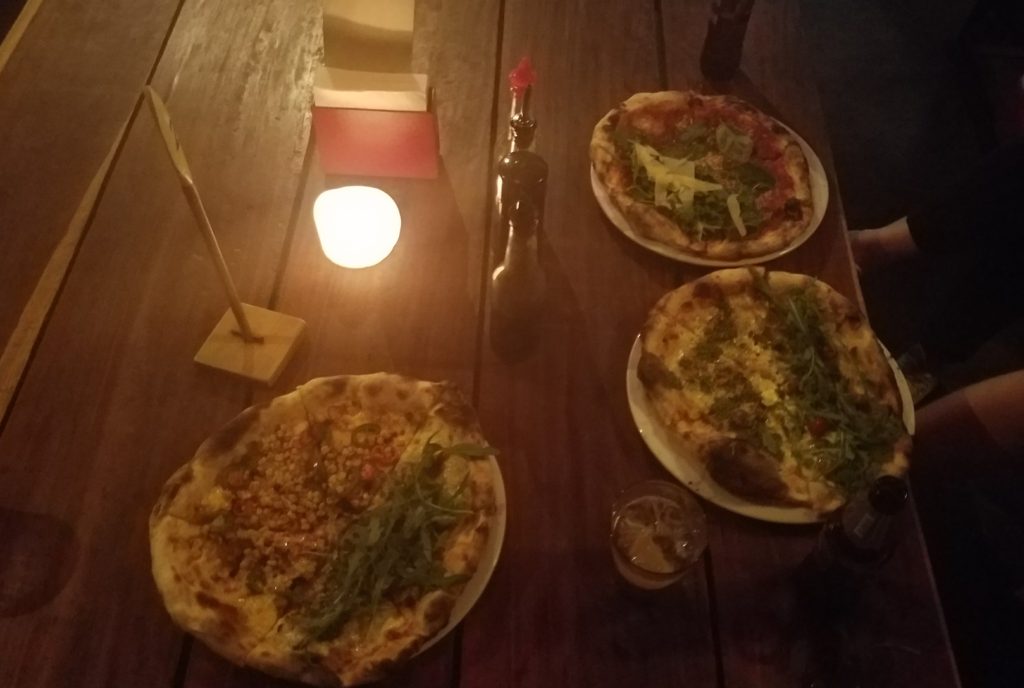 From there, we made our way to a bar with a ball pit. Ana and I took one for the team and tried it out! It was fun but also left us gasping for air!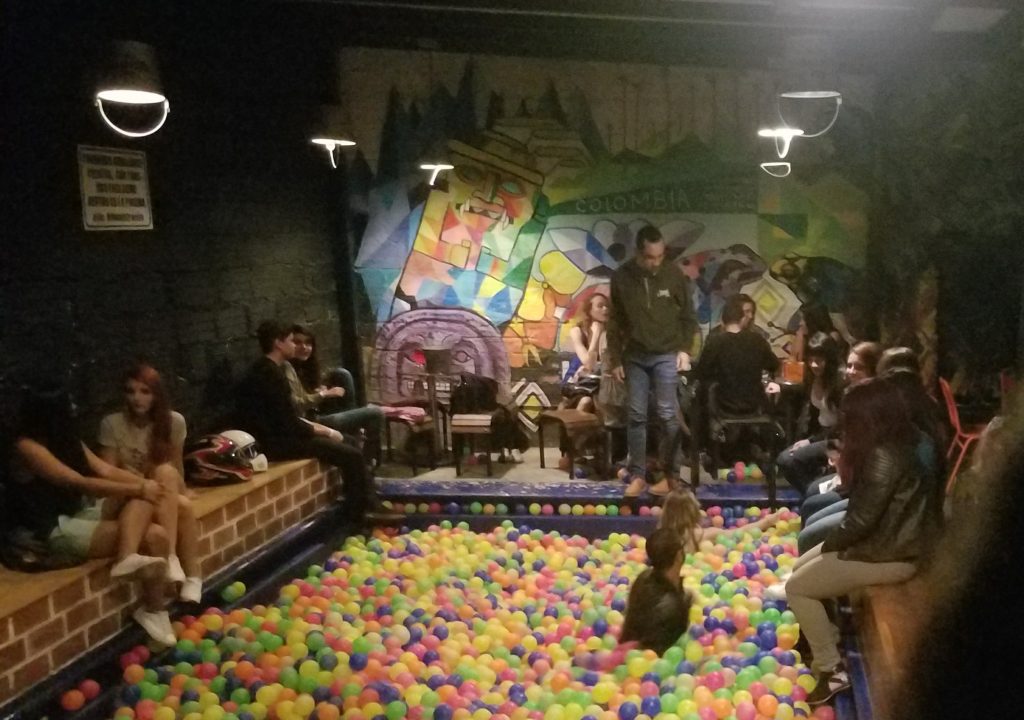 At this point, there was a serious downpour outside.  As we wait out the rain, we met some other travelers from Germany and the UK. We eventually hopped in an Uber and made our way back to our Airbnb.
Day Four
After packing and getting a few hours of sleep, Ana and I were on our way to the airport.  We enjoyed the ride to the airport, taking in the views as we headed away from the valley and up into the mountains.  Just like that, our whirlwind Medellín trip had come to an end and we were headed back to the US!  Nikki left a few days after then Sandy finished up her last week of class.
Although it was brief, Medellín was beautiful.  People were friendly, the food was amazing, things were affordable and the city was lively.  I especially loved the mountains, vibrant colors and the red brick buildings. I'm looking forward to visiting again for an extended time!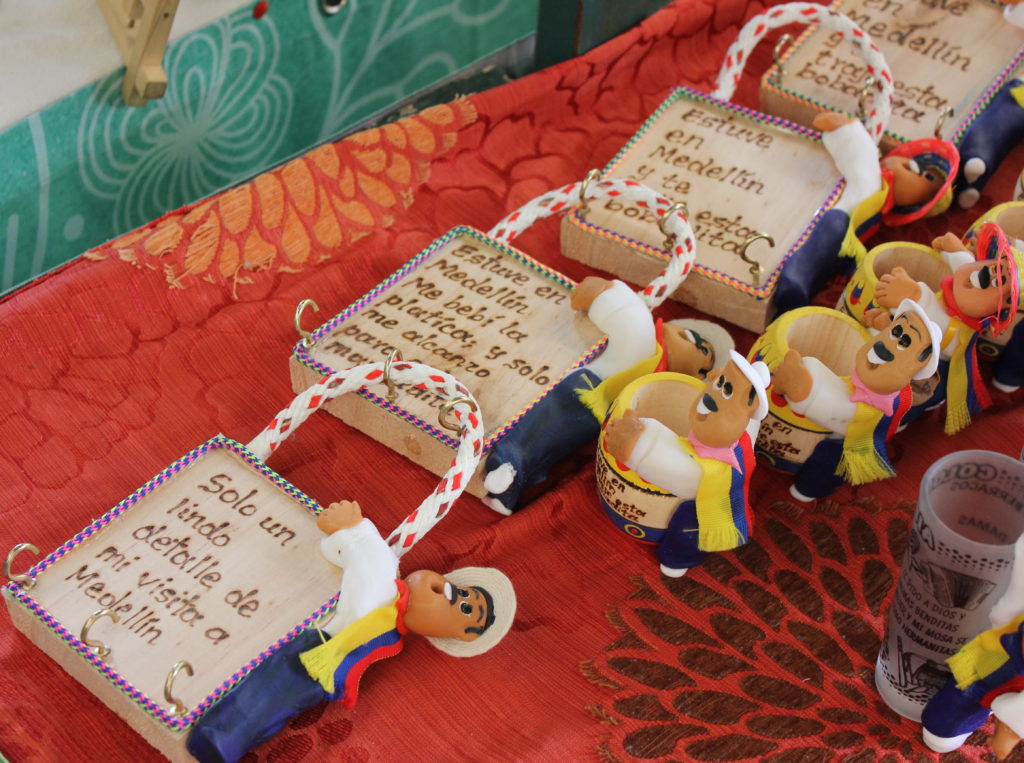 *************************************************************
Do you have any trips that are on your list that you want to take? Have any of them been on your list for a while? What's holding you back from taking them?  If you've taken a recent trip, how was it?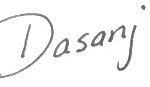 Dasanj Aberdeen is an entrepreneurial spirit who embodies the combination of left-brain logic and right-brain creativity. She is a consultant and proponent of multidisciplinary education, approaches and pursuits. She writes about their benefits in modern times and integrating multiple interests into a sustainable and fulfilling lifestyle. She's a graduate of The Wharton School of the University of Pennsylvania and Temple University with a concentration in Technology & Innovation Management, jointly delivered by the Fox School of Business and College of Engineering.