I still haven't gotten my hands on the Book on Life so I don't know how clearly it lays out all the things we need to know and
remember.  I suspect it doesn't explicitly state that life isn't always easy. Maybe that is written somewhere in fine print, hanging off the bottom of a random page, if it is in the book at all.
During honest, open and authentic conversations, you learn about the different things people are going through in life.  Each day we manage multiple aspects of our lives, and when we're laser focused on the problem du jour, we easily neglect other areas.  I had some good conversations with friends recently and came away with some important takeaways across various aspects of life that are worth remembering.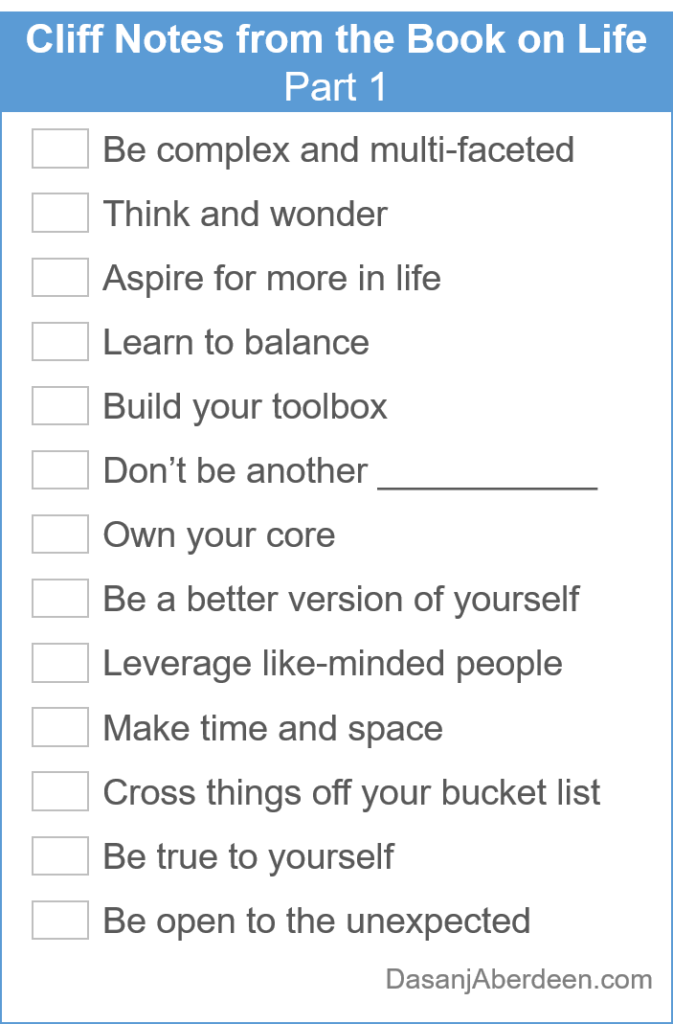 One friend was traveling for work and contemplating career next steps and taking some time to catch up on the non-career aspects of life.  In a conference call with two friends, one had been thinking about his higher purpose in life because he doesn't want to settle or live a life where he's just going through the motions. The other friend questioned his authenticity as he assessed how his interests align to his higher education pursuits.  In another conversation, a friend shared her decision to move to a different city after being honest with herself about always wanting to and realizing this may be the best time.
The takeaways from these conversations were relevant and timely. They're great reminders that we're in the driver seat of our lives and own our choices and how we live our lives:
Be a complex, multi-faceted person. Being well-rounded and knowledgeable about different topics adds to your perspective, helps you generate new ideas and enhances how your critical-thinking skills.  You're more interesting when you can contribute to any conversation and keep up no matter where it goes.
Think and wonder. Why else do we have a brain and the ability to think and process information? Questioning is healthy and you don't need approval for the possibilities you envision.  Not everyone will stretch their imagination like you, so when people don't get it, maybe it is just you!  And that's OK! 🙂
Aspire for more in life.  You don't need to settle. It is OK to be ambitious, strive and desire to have an impact. It is OK to be passionate about something in life and seek a higher purpose.  This requires a holistic approach to bring it all together for a fulfilling life.
Learn to balance.  Although you may have big aspirations, you have to figure out how to balance everything.  There's only so much time in the day. You'll have to balance accomplishing things, being present, being grateful, dreaming big, being practical etc.
Build your toolbox. What tools have you gathered along the way and continue to carry with you on your life journey? Think of all the advice, lessons you learned the hard way, "how to" information, skills, education, talent, and resources you have.  There's always a need to step up your toolbox game so keep adding to it!
Don't be another ______.  Whether that's an employee number, a generic person filling a role, remaining unknown or unacknowledged, you don't want to live a life where you feel replaceable.  It is OK to be dynamic and unique.  Set yourself apart by providing value and making a difference, not for recognition, but because you want to help others and have an impact.
Own your core.  Focus on and play to your strengths.  Don't waste time battling with your weaknesses. There is someone who is amazing in that area so let them own it. Focus on what you're great at and continue to improve in that area.
Be a better version of yourself. The only person you need to be better than is the person you were yesterday. So don't worry about competing with others or seeking their approval.
Leverage the power of like-minded people. The energy, strength and inspiration from talking to and interacting with like-minded people is amazing. Use that to your advantage to tackle big goals. You don't do everything yourself.
Make time and space for what's important. Make time for your interests, family, friends or whatever else is important to you.  When you keep what's important to you in your life, you'll keep your momentum going.  This provides a safe space and rejuvenation to propel you forward.
Cross things off your bucket list. This first assumes you have a bucket list. But it isn't enough to just have one. You need to actively cross things off over time. The good thing is you don't always need a deadline but make sure you have a plan to get to it.
Be true to yourself. From time to time, ask yourself if you're being true to yourself or if you're being disingenuous.  You need to check. It is easy to go through the motions and not intentionally align actions with your overall goals. Do a check up periodically.
Be open to the unexpected.  It is great to have a plan. But sometimes, things go awry!  Life always has jokes. Give yourself a break and be flexible!  Switch things up, pivot as you need to and keep it moving!
*************************************************************
What are some of your favorite life takeaways?  Are any of the ones above on your list? What works for you?  I'd love to hear from you in the comments below!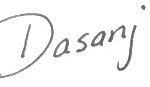 Dasanj Aberdeen is an entrepreneurial spirit who embodies the combination of left-brain logic and right-brain creativity. She is a consultant and proponent of multidisciplinary education, approaches and pursuits. She writes about their benefits in modern times and integrating multiple interests into a sustainable and fulfilling lifestyle. She's a graduate of The Wharton School of the University of Pennsylvania and Temple University with a concentration in Technology & Innovation Management, jointly delivered by the Fox School of Business and College of Engineering.