Getting started can be so hard!  You know what you want to do and you know why, but taking the first step can be daunting. You create stories in your head of how things are and will be. These stories, combined with fear, self-doubt etc., cause paralysis and you take no action.
I've been wanting to run a race for a while.  But I hadn't taken the steps to sign up and begin training.
A couple of months ago, I learned about an upcoming race and thought:
Why not now? Why not sign up for this race?  After all, it is only a 5K!
The race was a for a good a cause with the Back on My Feet (BOMF) organization. All the proceeds from the race would help provide support to BOMF's services to improve the self-sufficiency of those experiencing homelessness.  I also looked up the weather as the time got closer and saw the high would be in the 70s!  Of course that wouldn't be the temperature when the race started at 8 AM but this was a plus for the early part of spring (and because I'm not a fan of the cold).
I signed up.  I ran more frequently to train for the big day but I wasn't following a formal training plan. It had been years since I ran the one-miler in high school so I knew I had to put in some work to prepare.
The Friday before the race, I went to the website to get last minute information.  That's when I realized the race was a 5-miler and not a 5K! I had to process that…  How did I miss this before?! Did I let my wishful thinking trump the reality?! There wasn't much I could do at that point.  I definitely wasn't going to train for a 5-miler overnight but I still planned to participate in the race.
Mindset is Everything
I focused on my mindset. I told myself that it was better to learn about the 5-miler the day before the race versus on the day of the race. Imagine knowing you've reached the 5K distance but everyone is running beyond it and now you have no idea where the finish line is. I was grateful for not being in that situation.  I told myself I could complete 5 miles.  I hadn't been training for that distance but I had previous runs around the city that were just under 5 miles.
Believe and Achieve
Race day arrived. After forgetting my headphones and going back home to get them, I arrived just in time for the race to start.  The first mile was fine.  Then we got to a steep incline.  I tried to push myself and stopped midway to walk.  Once back on leveled ground, I saw parents with strollers pass me by.  I used that as my motivation.  I couldn't have all of them pass me! I continued to push through.  During the second half of the race, I saw a sign that said "Believe and Achieve." This helped me finish the last two miles strong.
Here are my final stats:
Gun Time – 48:30
Chip Time – 47:14
Pace – 9:27
Placed 574 overall out of a total of 1192 runners (men and women)
Placed 110 out of a total of 258 women in my age group
Placed 283 out of a total of 706 women across all ages
My results surprised me!  Once I realized this was a 5-miler, I thought it would take me at least one hour to finish. So anything short of that was awesome!  I also googled what a "good" pace is for a 5-miler and learned that a pace in the 8:00 range is good and for a professional runner, 4:00 to 5:00 is good.  All things considering, being in the 9-minute range wasn't terrible.  I didn't think I had any of my running abilities left after competing in high school so many years ago!  This was when I realized that achieving anything and exploring what's possible starts with my mindset.
What if…?
I reflected on my experience.  I accomplished something I didn't even set out to do.  What if I did things differently and with more intention? I thought about the actions I could have taken and how that would have changed the outcome:
Take the race seriously – This would have been a great starting point… I would have known that I signed up for a 5-miler, not a 5K!
Follow a training plan – I could have easily googled and followed a formal 5-miler training plan
Time myself along the way – I didn't set a timer at the beginning of the race so I had no real gauge of how fast I was running. This would have been helpful for motivation along the way.
Get to the race earlier – Arriving earlier would have allowed me to get to the front of the line. Unfortunately, since I forgot my headphones and went back home, I arrived just before the race started.
Pace myself with more serious runners – I'm assuming the more serious runners were at the front of the pack.  I could have paced myself with them. I definitely saw people walking and running back in the opposite direction as I was finishing up the last two miles of the race.
Train outside – I only ran on a treadmill. Running outside could have helped me get a better sense of my pace when I'm not on a treadmill and my strides are less restricted.
Dress better – I didn't want to be cold so I layered up.  I could have given myself more flexibility with this, especially to remove layers as needed.
Preview the course – I had no sense of what the course would be like.  So I didn't expect the incline after the first mile. Getting familiar with the course in advance and practicing on an incline would have helped.
Have you had to do something that you didn't believe was possible? How did you overcome this? Do you still struggle with having the right mindset and believing you can achieve anything you want? I'd love to hear your story below!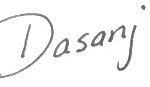 Dasanj Aberdeen is an entrepreneurial spirit who embodies the combination of left-brain logic and right-brain creativity. She is a consultant and proponent of multidisciplinary education, approaches and pursuits. She writes about their benefits in modern times and integrating multiple interests into a sustainable and fulfilling lifestyle. She's a graduate of The Wharton School of the University of Pennsylvania and Temple University with a concentration in Technology & Innovation Management, jointly delivered by the Fox School of Business and College of Engineering.