We've all seen and read about the growing need for creativity in realms where we wouldn't generally expect it.  Whether it is to find solutions to complex problems, promote innovation or gain competitive advantage, creativity is sought after.  In a way, it is the new "edge."
Does your business have it? Do you have it?
Creativity is sought after.  In a way, it is the new "edge."
If you don't feel like you have it, where and how do you find creativity that very moment you're unexpectedly called upon by your boss to "think outside the box and propose a creative solution to a problem that threatens the future of the business?"
No pressure.
I've had a long-standing relationship with creativity and I genuinely believe it promotes innovation which enables long-term success for organizations.  I use creativity with my clients to think of and recommend new ways of doing business and new markets and partnerships for them to pursue.
Many of the recommendations are not traditional to the business so they capture the essence of creativity.   This can be especially daunting.  Why would the Executives of a Fortune 100 company listen to my creative ideas for their business? How do I get the confidence to propose these creative solutions?
My secret is in making creativity a lifestyle. It is in living a creativity-inspired life.
I don't wait until I need to tap into my creativity to use it.  I'm not afraid of my creativity and where it will lead me. I open myself to its possibilities and actively seek it.  So when I do use it in business, I don't have to worry about the creative process because it is already within my comfort zone. I focus on if the creative solutions I propose make sense for my clients and their business.
My secret is in making creativity a lifestyle. It is in living a creativity-inspired life.
I've always loved creating visual art, but even when I'm not doing that, I find other ways to enjoy, experience and explore creativity.  Here are some of the ways:
Exercising, being active and embracing adventure
Taking pictures of views that move me
Taking time away from the city to enjoy nature
Capturing things that bring a new point of view and new perspectives
Beach run at 8 AM to have quiet time with my thoughts and ideas
Experimenting with different types of art and design
How do you make time for creativity? Do you proactively incorporate it into your life? Or do you only use creativity when you're asked to?  I would love to hear your story below!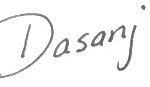 Dasanj Aberdeen is an entrepreneurial spirit who embodies the combination of left-brain logic and right-brain creativity. She is a consultant and proponent of multidisciplinary education, approaches and pursuits. She writes about their benefits in modern times and integrating multiple interests into a sustainable and fulfilling lifestyle. She's a graduate of The Wharton School of the University of Pennsylvania and Temple University with a concentration in Technology & Innovation Management, jointly delivered by the Fox School of Business and College of Engineering.